Creative Director, Art Director
Creative Technologist
Design Director and Illustrator
A Japan-born creative with an uncommon mastery of expression and visualization, affluent in construction of multilayered idea and visual storytelling. He develops his expression with captivating interconnectedness and artistic detail, making it relatable and simple in distance. Applying the concept of 'kakazunikaku', he intends to 'draw without drawing' aiming to give his work a universal value. Thrives in black and white ink drawing, watercolor on line drawing while preserving a passion to explore character design, motion graphics, wall drawing and figure art.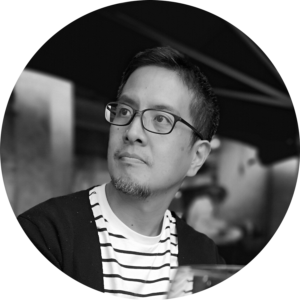 KAKAZUNI KAKU. In English, "Draw without Drawing"
Visualizing the essentials is not always about how precise you can draw. It's about how we set the right question, how we see the thing from the right angle, how we craft to tell the story. 
My mission is to develop a new way of storytelling as well as deliver the message through the visualization process.
Yorokobu Magazine Vol.100 "La equilibrio está en el movimiento" (2018 Spain)
Kyushu Art Directors Club Award – Shinya Nakajima Award (2012 Japan)
Editor's Choice @ BIG/BIH (2010 Thailand)
dpi Magazine – Japanese Healing Artist (2012 Taiwan)
A Day Magazine – Interview about visual communication (2011 Thailand)
Communication Art – Interview about visual communication (2011 Thailand)
CMNow Vol.149 (2011 Japan)
Booooooom.com (2009 Online)
Semi-Permanent Book (2009 Australia)
Lecture in international Programme in Communication Design(CommDe), Chulalongkorn University (2016 Thailand)
Lecture "Message Design for Communication" -Faculty of Journalism and Mass Media at Thammasat University (2014 Thailand)
Workshop "Visual Communication" at Digital Hollywood Bangkok (2013 Thailand)
Workshop "Visual Thinking" at Thailand Creative & Design Center (2012 Thailand)
Fast Expo 2018 Siroco Lounge "Face to Face" (2018 Spain)
Artwork Submission "heART to Heart" project at Central World Plaza (2011 Thailand)
Wall Painting "Mellow Thonglor" (2011 Thailand)
Speaker at PechaKucha 20×20 "Design & Culture Comparison between Japan and Thailand" (2010 Thailand)