BACKGROUND
Josuian is one of the oldest and most established sweets brand in Fukuoka Province, Japan. They have been producing a variety of traditional Japanese sweets. Introducing a new product called "Tottoto" they opted for a campaign creation targeting younger generations. The name of the product "Tottoto" in Fukuoka dialect stands for "Do you keep this?" with unique sounds and cultural contextualization that was intended to be transmitted through the TVC material production.

IDEA
An animation TVC was developed with a story telling component and unique set of ilustrations. The story voice reinforced the cultural component by repeating the dialect reference for every action. The character design collected local market specifics transmitting behaviors popular among target market.

AWARD
"Tottoto" received the Shinya Nakajima Award in Kyushu Art Directors Club Award Festival 2012 in Japan.

Featured by an advertising magazine, CM-Now 2012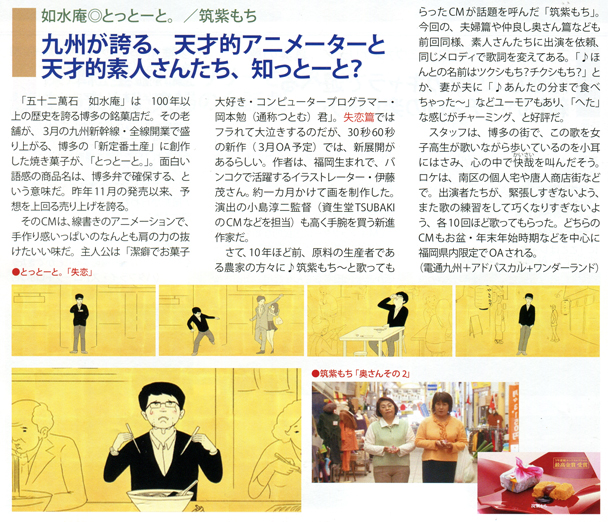 Script
VO
Kattoto? (Are you buying?)
Mattoto? (Are you waiting?)
Shittoto? (Did you know that?)
Yottoto? (Are you drunk?)
Wattoto? (Split apart a pair of chopsticks?)
Futtoto? (Is it raining?)
Kettoto? (Are you kicking?)
Wattoto? (Breaking the window?)
Nuttoto? (Are you applying medicine?)
Kattoto? (Did you buy it?)
Attoto? (Are those winning numbers?)
Nottoo? (Are you in high spirits?)
Tuttoto? (Are you having a leg cramp?)
Tottoto? 

Anata ni Hakata* wo. (Hakata for you.)
*Hakata: Another way to call Fukuoka City.
Client Josuian (Japan)
Project 30 seconds TVC
Agency Dentsu Kyushu
Creative Director Takao Ito
Producer Kusaba
Direction, Animation teeveeg 
M Ishibashi 
Illustration Shigeru Ito